MY RUGER NEW MODEL BLACKHAWK .45 L.C.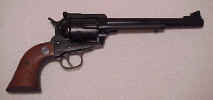 As always, click on an image to see a larger one.
Free permission to quote Church's articles is granted, as long as proper attribution is given. We request that if you use our work, you give us credit.
---
According to the serial # data, my Blackhawk first saw daylight in 1983. It was obtained from a "GUN LIST" classified ad, and was 10 years old when I got it. The revolver is a carbon steel 7 ½" bbl version. When purchased it was advertised by a Seaford, Long Island, New York dealer as being "at least 90%", and when delivered proved far better than that. The history was that it was from an estate out of Staten Island, New York City. A peculiar history for a big bore sixgun, but these gentlemen were super honest about the condition, and @ $200, it was priced slightly lowball. For the record, the revolver was box stock. I liked (and still like) the longer barrel for the ballistic advantage, sight radius, and balance. Factory grips of indifferent wood and indifferent finish were fit well, and are still in place. The trigger pull was a little heavy. One side of the trigger return spring was unhooked, and the trigger pull was immediately reduced to something acceptable. DISCLAIMER: DO THIS AT YOUR OWN RISK. I know nothing of its shooting history before I took possession. It has been described as being shot very little, and exterior condition, razor sharp forcing cone and chamber mouths seem to bear this out.
I shoot very little factory ammo in .45 Colt. Usually, for plinking, I use the plain base Lee 452-252-SWC mould cast as hard as possible, over 8 grains of Unique, and for my less and less frequent backpacking and woods loafing extravaganzas I stuff in one more grain of Unique. 9 grains of Unique, a 250ish SWC, a Winchester large pistol primer, and whatever cases I have without neck splits are about as classic a hand load as the 127 year old cartridge has. The 9 grain load essentially duplicates the original black powder ballistics of the cartridge.
DISCLAIMER: ALL HAND LOADS ARE AT YOUR OWN RISK. THESE LOADS ARE PROVEN SAFE IN MY HANDGUN, BUT I HAVE NO CONTROL OVER YOUR USE. CERTAINLY THESE HAND LOADS ARE NOT FOR 19th & EVEN SOME 20th CENTURY REVOLVERS. I'M NOT ADVOCATING YOU DUPLICATE THESE. I'M JUST TELLING YOU WHAT I'VE DONE. READ THE MANUALS, OBSERVE THE PROCEDURES, KNOW WHAT YOU'RE DOING. AND, DON'T BLAME ME OR THE MILES FORTIS IF YOUR GUN TURNS INTO AN ILLUDIUM Q36 EXPLOSIVE SPACE MODULATOR.
For carrying as a rifle backup, pursuing the wiley whitetail, I usually carry the above bullet, in more carefully chosen cases, over 17. 5 grains of IMR 4227. This isn't much hotter than the 9 grains of Unique, but it's a little more accurate. Initial shooting sessions revealed several things.
First, this revolver seemed to have no strong preferences in loads. A number of bullet weights, plinking loads, and heavier hunting loads all gave the same rough level of accuracy.
Second, the complaints about Rugers having sloppy oversize chambers and rough bore finish are, at least in my revolver, absolutely true. This one works the brass hard, and leads the bore pretty badly. I took to shooting a fair bit of jacketed ammo to slick it up and, after a couple of hundred rounds, it is partially accomplished. It still wants hard bullets with good lube, or I have to get out the de-leading cloth. Cases are typically good for 2 reloads, and then will begin the classic mouth split. I'll still shoot 'em with the slight splits for tin can ammo, but usually that'll be the last load you get out of the case. I haven't kept good documentation on this, but my sense is that Federal hulls live longest, Remington the shortest, and Winchester somewhere in between. I've not used enough Starline to have an opinion.
I was recently given a quantity of "Cowboy" factory loaded ammo from one the big boys, and the soft bullets smear lead promiscuously. I won't mention the brand of that ammo, since I am told later production has harder bullets. This is, by the by, the second box of factory I've ever run through it. The other was a box of CCI Blazer purchased once when I got to my destination with the big Ruger, but without hand loaded .45 cartridges. I know nothing about the accuracy of that load as it was all burned up by my fearless nephew, the Justinator, then 11 years old. So much for the intimidating recoil of the big round…
Here is some accuracy data for the revolver. Ammo supplied by B&J Guns & Ammo & fired on the J barT Ranch pistol range by the Miles Fortis without any sight adjustment. All fired @ 50 feet off a rest at a standard pistol target. I've not yet played with any of the +P ammo loaded by specialty manufactories like Buffalo. The Winchester factory stuff will kill all the lower Midwestern whitetails I'll ever encounter, and is quite pleasant to shoot. The hand load uses Winchester's large pistol primer
Nosler 250gr JHP 22gr H110

Winchester 255gr Super-X

Cor-Bon 200gr JHP

Note that nothing there is really gilt edged, or really horrible. The Cor-Bon load @ 1050-1100fps did certainly give the best group of the day.
I've made some New Year's resolutions;
1, Everything shot, except the Nosler load could be used safely in a 2nd-3rd generation SAA. I'd like to try some hotter stuff like the 300 grain flat point over W296-H110 type loads. I don't need it in my part of the world, but you never know where you might end up hunting.
2, The bore has gotta' be lapped. I'm impatient with shooting jacketed ammo, and this bore has GOT to be slicked up. So I imagine B & J Guns & Ammo will be called on to do this simple procedure. This will be the first actual gunsmithing the revolver will receive.
The revolver was purchased specifically to carry during Midwestern whitetail hunting. During a proper deer season the weather is uncomfortably cold, and usually damp and foggy. 1999 was semi-tropical, and was an exception. The revolver WILL get wet and I don't like flapped holsters, so it has been refinished in matte black DuraGuard.
A close look at the finish.

This is a super corrosion resistant finish, attractive enough and resembling dull bluing with a little graphite thrown in. It won't rust doing anything I'll ever do with it. My article on the shorty New England .357 mentions more on that finish in its shinier variation.
I will also mention that my holster for this gun is an R D Maker one-off.

It is a mixture of Threeperson and Keith/Lawrence 120 design. It is a pretty open holster, and that is not what I want for the hunting revolver. I've come up with something which might just be better.
Here's a side by side view of the two holsters

I prefer something more protective. A later variation I tried for my Single Six, and also seen in it's article seems more like it, and needs to be duplicated for the big revolver. Trigger guard exposure is nil. It is more protective of the revolver, and suits my needs. Finish is black basket weave. I like basket weave, as I believe it shows fewer scratches. I'm very happy with it, as I am with my .45.
---
AK likes to attach useful or interesting letters from readers to his articles. Please state in your letter if he may use your correspondence. He can do this with or without your name or address, according to your wishes. Email him here.
NOTE: Author Church regrets that he is unqualified to do appraisal, and cannot establish a value on your gun.
visitors since website crashed AUG 2003