The S&W/Lew Horton Heritage Series
Model 24 .44 Special
Shooting It. Carrying It. Looking At It.
and other interesting stuff coming from hands -on experience with the recent Hand Ejector Models from the, once again, American Owned Firm
(Click on any thumbnail image for a larger photo.)
---

It was late May 2001 and I clicked onto the Lew Horton site about five days after this traditionally styled, limited edition revolver saw light on the Horton page. The accompanying announcement strongly suggested that there would be only 150 of these available and my immediate goal was to get one- sooner rather than later as the popular neologism goes. Fortune smiled as Brad Burney heir and partner of L.M. Burney Distributors has hunted and bopped around Europe with Mike Horton, scion of the Lew Horton concern. There followed some scurrying about and exchanging of new and updated FFLs and by Mid June, I took delivery of number 130 of the original 150.
I had learned from Mike Horton and a Smith and Wesson Customer Service Representative that the Horton concern would receive 150 of these at a time with total production ultimately dependent upon demand. The current Model 24 with color casehardened frame would be followed by a model 25- Basically the same revolver in .45 Colt. Others in the series were in the works at the time but several were projected including variations of the K-22, the 1917 .45 acp, and a couple of variations of the Model 15 Combat masterpiece evoking such handgun luminaries as Walter Roper and Ed McGivern. Some would receive the color case treatment and some would be high-polish blue overall. (See lewhorton.com for current production in the series.)
First Impressions
The revolver is delivered in a subdued gold cardboard and metal reinforced box of the traditional pattern. It is imprinted with a woodcut style image of the Smith and Wesson Factory and Portraits of founders, Horace Smith and Daniel Baird Wesson. Other inclusions are a new-blue Master Trigger lock and a fired case to be delivered to the Massachusetts gun control bureaucracy. The tone of the color case was cooler and more subdued than seen in the Horton promo and the grips lacked the reddish tint . It was apparent that the marketing picture had been "enhanced" with a warming filter. Nevertheless, the esthetics of the arm were extremely pleasing with the cooler colors actually more in keeping with the traditional aspect of the revolver. The casehardening is a bone- charcoal process from Turnbull Restorations while the high-grade walnut grips come from Altamount. They are nicely figured having prominent "mineral streaks" and well laid –out fine-line checkering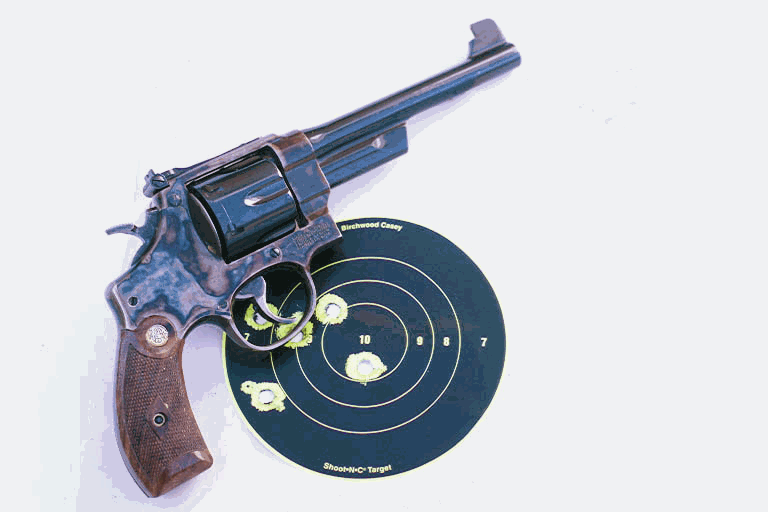 25 Yards "NRA" Offhand
Owners of the earlier Hand Ejector revolver – another custom shop revolver made for Sports South as well as new owners of the Heritage Series Model 17 are reporting light trigger pulls and extremely smooth actions. My revolver, by contrast, came with a heavy six plus pound single action with the double action pulling through at almost twelve pounds. The trigger pull was not consistent one chamber to the next. I carefully removed the side plate and took one coil off the trigger return spring. – No other modifications were made. This caused an immediate drop in single action release to four and a half pounds with positive trigger reset. After firing approximately 300 rounds, the single action pull has settled in at about three and a half pounds and the double action is a smooth ten pounds, eight ounces. The action now exhibits the famous S&W crisp trigger release, smooth functioning and hitch-free double action delivery.
The Model 24 Is Very Accurate:
Before my first trip to the range, I whipped off the excellent Micrometer rear sight and replaced it with a Weaver base and Weaver's 30mm two-minute electronic dot sight. This arrangement is compatible with all the current issue Smith hand ejectors having adjustable sights and never fails to produce better bench rest performance than I can demonstrate with iron sights. Firing over a rolled up carpet remnant at 25 yards, I found three extremely accurate loads right off the bat. The first was a 225-grain Magna machine cast flat point cowboy bullet obtained from the Houston Cartridge Company. This was loaded over 4.5 Bullseye and averaged 826 feet per second. The five round group did exactly one inch. Four of the shots were in a nasty little cluster measuring under half an inch as near as I could tell.
Another hand load with the Lyman 429421 Hollow Point over seven grains of Unique clocked 929 fps and turned in a .95" group. The single factory load on hand was the 165-grain JHP Personal Protection Load from Cor-bon. The 6.5" barrel gave this load 1353-fps with a group of exactly one-inch. I tried three additional loads using a Cast Lee case round nose and a Lee .44 / .429-sized full wadcutter weighing in at 215 grains. Load variations using the Bullseye and Unique charges produced groups of one point nine to two point five inches and were clearly not up to the accuracy potential of the Model 24.

Two handed Double action at 25 yards.
My 54 year old K-22 turns in excellent 25-yard bullseye accuracy in the double action mode. The Model 617, with its rubber Hogues and heavy underlugged barrel is even better- so close to single action shooting in its accuracy that the majority of my shooting is done double action. By contrast, My one handed double action work with the small-gripped 24 is an exercise in spazmodicity. Using two hands improves the situation markedly.
Just prior to putting together this review, I went to the range to do some work with another revolver. Realizing that I needed pictures to go with the story, I packed along the Model 24 and a small supply of cartridges. Standing and using two hands at 25 yards I fired a slow and deliberate ten round string on one of the Birchwood- Casey Shoot 'N See " combat centers" . The resulting double action group measured just over three inches. Also needing a good example of the revolver's single action capability, I put up a Shoot 'N See of the Standard slow fire bullseye type and put five rounds one handed single action into the black. The group measured two and one tenth inch slightly to the left of center demonstrating that I am not a perfect marksman. I had only taken enough rounds to the range for these two groups - earlier experience with the Heritage 24 made me confident that I would not need to repeat the shooting for photographic material.
Extra Care
The bone color case hardening on this and other Heritage Series Revolvers is rendered by Doug Turnbull of Turnbull Restorations. It is applied by traditional methods and then over-coated with piano varnish as preservative. Mr. Turnbull warns against use of chemical solvents or abrasives which will degrade the finish. My practice is to wipe the gun clean, Oil the blue steel barrel and cylinder and coat the frame and grip area with paste wax. To further preserve the finish, I obtained two Uncle Mikes " Sidekick" holsters- a vertical shoulder rig and a strong -side belt holster. The synthetic material is extra kind to revolver finishes of all types. Many revolver enthusiasts complain that the color case treatment is not traditional on Smith revolvers. Maybe it should have been. Not to worry in any case, as a variation of the Model 24 will be issued with a high polished blue finish overall.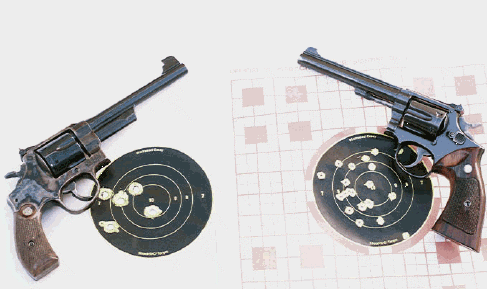 The M24 rivals the performance of this 1948 Model K 22
Modern New-Fangledness:
The 24 and other Heritage Series revolvers are, by no means, reproductions of anything. They are products of the very latest production techniques, design and material:
The Frame Mounted Firing pin is a recent variation from the Smith Performance Center. This set up readily discharges the hardest of primer in the model 24. My early Performance Center 627-8 pioneered the use of this set-up. It would produce frequent double action failure to fire with CCI Primers but was reliable with all others. No such problem is seen with my Model 24;
Ball Detent lock-up.- the ejector rod is free standing with no front lock. Instead a spring loaded ball fits into a frame recess locking the crane into the frame.. Not a "Triple Lock, the Model 24 is a two –point system. Tom Kelly of the Performance Center told me that this Detent ball is designed to press into the recess at an angle and that it will assure positive fit and accuracy even with considerable normal wear.
Durability and Injection Molded parts on the new Smiths-This is one of the unanswered questions and time alone, will tell My 617 has injection molded lock work. It has now fired about 3,000 rounds with no sign of wear; As an aside, My Mountain Revolver – produced before the current crop with MIM lock work is my best evidence that the circa 1990 Endurance Package REALLY WORKS. Most early and – non EP N frames that have seen any substantial use with Magnum loads, show substantial wear. My Mountain Gun has had significant use with Magnum loads and recently passed factory inspection with flying colors;
Accuracy- My three year old 617 with dot sight mounted obtained a .71" average of three five round groups with CCI Green Tag Target rounds. The 627-8 shooting all eight chambers grouped several factory and handloads under the one inch mark. My early .44 Mountain Gun with hammer mounted firing pin grouped Cordon 165 Personal Protection loads into 1.9" and clustered five rounds of Hornady 240 XTP over 24/ 296 into 1.6".
The current production Smith Revolvers are exceptionally accurate.
The Heritage Series is a thoroughly modern item that embodies features evocative of the one hundred plus year history of the Smith and Wesson Hand Ejector line. It is not a copy of any artifact of revolver history. There is not and never has been a classic or original, pure-form Smith and Wesson Double Action Revolver. The design has undergone a bewildering succession of major and minor changes since the late 19th Century. Traditional hand fitting is now done by machine-the factor that makes the intricately designed Heritage Series an economic possibility. While hand-fitting is a thing of the past, art and artisanship remain very much a part of the Hand Ejector Equation. It is the element of human creativity that brings forth the design and translates it into reality changing production methods not withstanding.

Practical Shooting
One of the recurring criticisms of the Model 24 and subsequent Models 25 and 1917 is that the frame-fitting round-butt grip has no historical precedent. While the N -frame revolvers of history all had square grip frames, the arrangement on this Model 24 bears a reasonable resemblance to the grips on Early K and smaller framed Hand Ejector revolvers. The "feel" imparted by these grips brings to mind the handling characteristics of the early Hand Ejectors, round butt or square butt and without much regard to frame size. I was concerned that the small grip might make the revolver a real chore to shoot. After all, there has been a steady progression from the frame fitting grips to the magna style and then to the Roper-style target grips, their variations and beyond. These changes came about for a reason and the reason was a demonstrated need for an ergonomic assist to accurate shooting.
From my first shooting session and consistently thereafter, I have found the Model 24 to be capable of instinctive and repeatable fine accuracy shooting single action from the traditional NRA single-handed stance. This was true before the action " shot in" to its current level of excellence when- the overall balance of the revolver, the high visibility patridge sight and the crisp but still heavy trigger combined to produce the shootability inherent in the Smith Revolvers since their earliest development. With its action now smoothed by usage, the 24 rivals my K-22 and Model 17 in its practical field accuracy.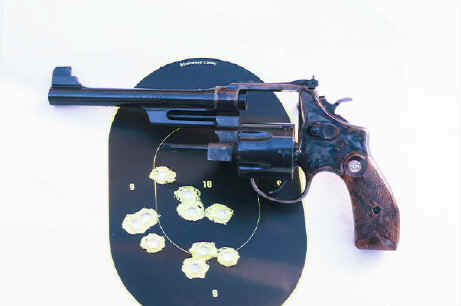 Double action shooting is an entirely different story.
larger images are available if you click on the thumbnails.
since the website crashed AUG 2003